Name
Hypochlorous Acid Generator
Qualification
CE
Model
AEOW-2000
Built-in
Filter stystem
Main Machine Size L W H
550*350*900mm
Warranty
2years
Electrode plate
Titanium platinum
Electrode plate
7plates
Power supply
AC220-224V
Power
1200W
Water out put(max)
2.5L/min
PH
5.0-6.5
Water pressure
0.2~0.3MPa
Available chlorine
40-200ppm
Product
Features

1. Hypochlorous acid water: pH5.0~6.5, available chlorine 40~200ppm; alkaline water: pH≥11.0


2. The ammeter shows that the operation status of the product is clear at a glance

3. Using a unique electrolysis algorithm and electrolysis technology, the power consumption is lower.

4. Clean with RO water to prevent the electrodes and pipelines from soaking in salt water for a long time.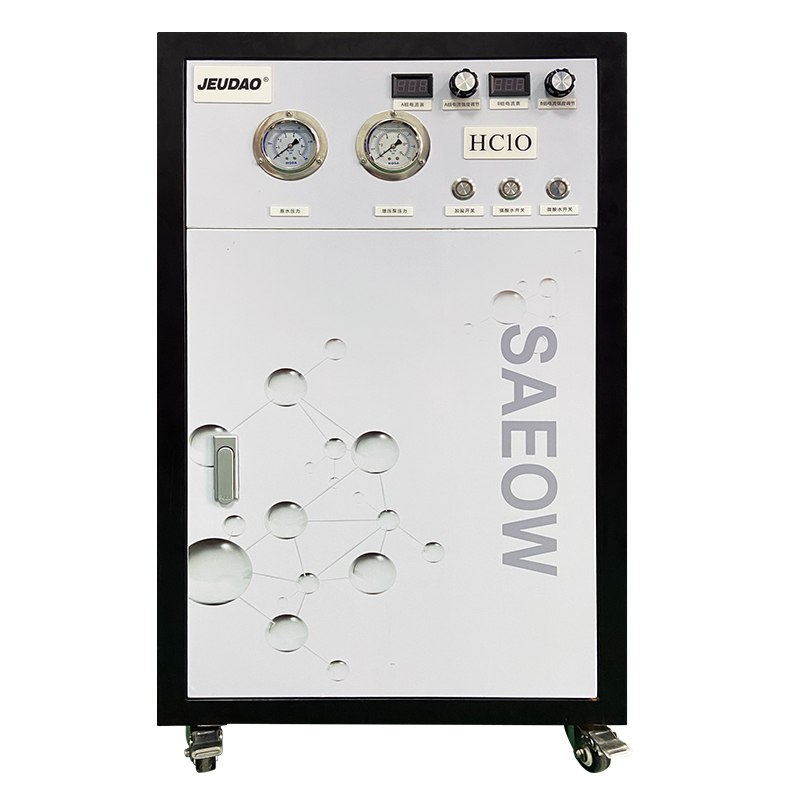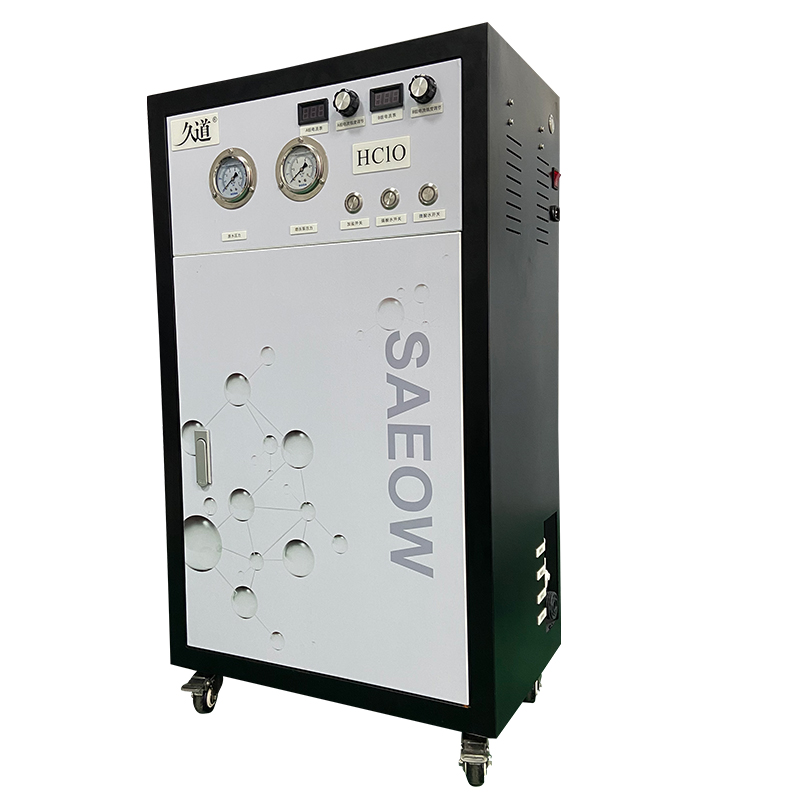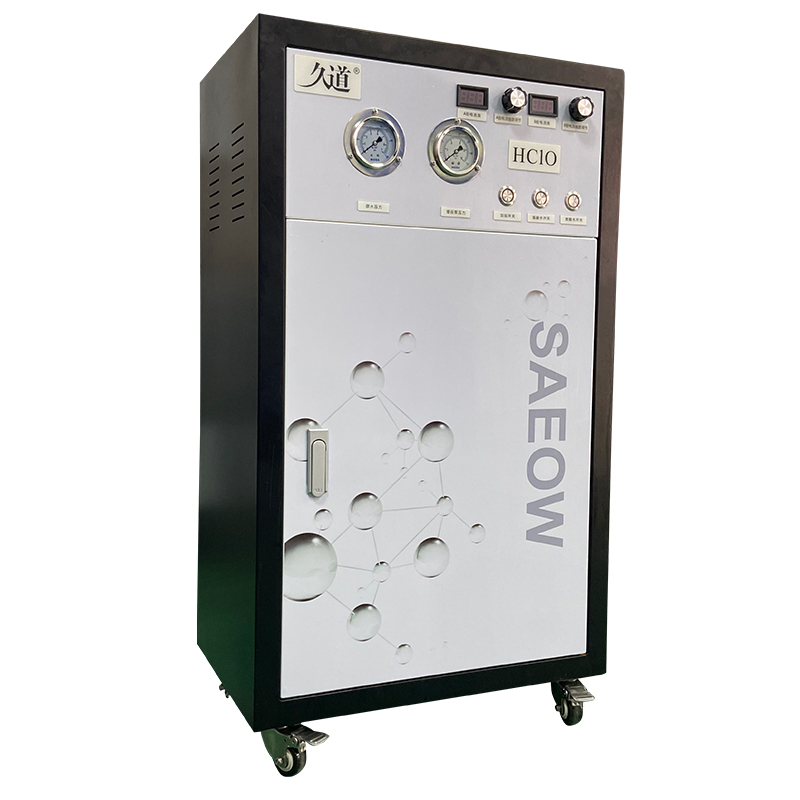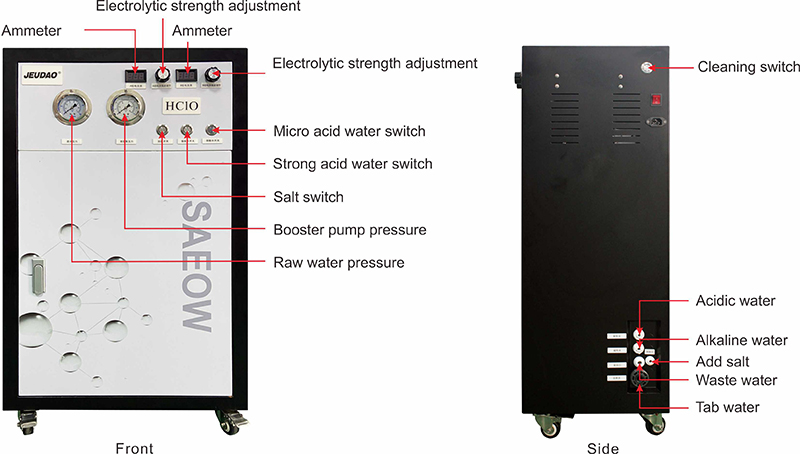 Working principle
After the tap water is purified and RO , it is mixed with an appropriate amount of saturated sodium chloride solution and then enters the electrolytic cell.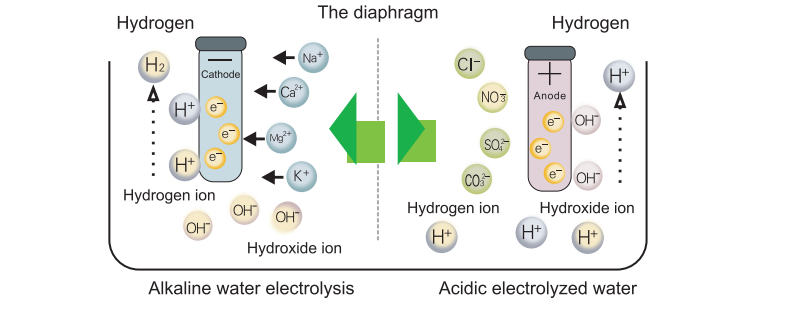 Installation
1. This equipment includes pure water system, electrolysis system, salt tank and water pump.
2. Municipal tap water (water pressure 0.1~0.2MPa, if there is no water pressure, please install a water pump) and connect the water inlet of this equipment.
3. The acid water port of this equipment is connected to the acid water tank, and the alkaline water port is connected to the alkaline water tank.
4. The waste water outlet of this equipment is connected to the sewer. (Note that the pipeline should not exceed 10 meters, and the pipeline should not be higher than the water outlet)
5. Connect the power supply.
6. Check each connection for correctness and leakage.

Instructions
1. Check whether the water source, power supply, and the water volume of the brine tank are normal
2. Hypochlorous acid water: start the electrolysis switch, adjust the electrolysis intensity knob of group A, the ammeter of group A shows 11.0-15.1A
A djust the electrolytic strength knob of group B, the ammeter of group B shows 6.5-7.5A;
The hypochlorous acid water with PH5.0~6.5 and effective chlorine 40~200ppm can be obtained
3. Sodium chloride solution preparation: 90g/L, 210g/L.

Before leaving get off work every day, turn off all electrolysis switches, turn on the switch of the pure water machine,
Clean the pipeline with pure water, and prevent the electrodes and pipelines from soaking in salt water for 5 minutes to prolong the service life.
Equipment Warranty Instructions
1. The quality of the equipment is guaranteed for 1 year free of charge;
2. Free warranty for electrolytic cell parts for 2 years or 10,000 hours of water production, whichever comes first;
3. The equipment is maintained for life, and reasonable accessories and maintenance fees are charged.